To finish off the STi front suspension conversion, I picked up a set of STi aluminum lower control arms. If you want a set that adds caster, avoid a set from a 2007 STi. There are some visual cues of the caster adding LCAs, however they aren't obvious at first glance. Check out this thread on Nasioc for more details.
My main reason for going with the STi LCAs was that my rear bushings are shot. I could of just replaced these with an anti-lift kit (ALK) and called it a day, but I wanted to upgrade the arms as well. The STi LCAs have a slightly wider track along with the added caster. The aluminum arms only weigh a pound less than the steel ones (10.5 lbs vs 9.5 lbs) but every pound counts in Project +Lightness.
You may need a STi front sway bar as well. I've heard you can make the WRX one work, but it may interfere other components. I already had an STi front sway bar in my stash so I dusted it off and put it to good use. The bars look similar except at the ends. The STi (top bar) takes a different route to the endlinks.

As you can see, the ends are a little bit different.

At any rate to pop the stock arms off you are going to need all your favorite tools. Dr. Lube, Captain Breaker Bar, and Good Ole Boy Impact Wrench. First up, decide whether or not you are going to remove the subframe u-brace. I didn't want to remove it (because it's awkward and kinda heavy-ish) but I couldn't get my impact nor breaker bar on the front LCA bolts. So I dropped the u-brace for extra room to fight these rusty bolts.
To drop the subframe brace, I put a couple jack stands underneath so it doesn't fall on my face once it's free. Start by removing any plastic pop rivets that attach any plastic liners or covers to the brace. If you car was missing the splash cover like mine was, I would recommend hitting all of the bolts with penetrating oil.

With the u-brace is out of the way it's time to pull the sway bar. Disconnect the endlinks to the control arms, sometimes these will zip off with an impact, otherwise you will need an allen key and a pass-thru wrench. I don't have a pass-thru wrench in my toolbox, so I used my impact and a pair of vise grips.
Then there are two 12mm bolts/nuts on each side of the bushing brackets. Once those are out loosen either the rear or front bolts on the jack plate and remove the opposite set. The sway bar should slide right out.
Now the fun begins.

The front control bolt (17mm) on my car was frozen in place. It's the first bolt my trusty old Ryobi 1/2-inch impact failed to remove. I put my 1/2-inch 3-foot breaker bar on it and I had to use every bit of leverage I had to get it to move. It popped so loud I thought I broke the bolt. However it had barely moved. Eventually I got it to a point where I could use the impact to finish removing the bolt.
Next there are two 19mm bolts holding the rear bushing in place. Impact got those out no problem. I guess the rust there was minimum. I removed the ball joint bolt earlier so a couple taps from my hammer and the control arm was free.
The OEM WRX LCAs would probably be just fine with an ALK or stiffer bushings. The weight difference isn't that large unless you are gunning for every pound off the front end (like myself). The main benefit of the STi control arms is the added caster. 
I weighed the control arms since I had them out. The steel one weighs 10.5 lbs and the aluminum weighs 9.5 pounds. Not a major difference, but the car does seem smoother on the road at highway speeds. At slow speeds it does seem a little bumpier. Like most things automotive there are trade-offs.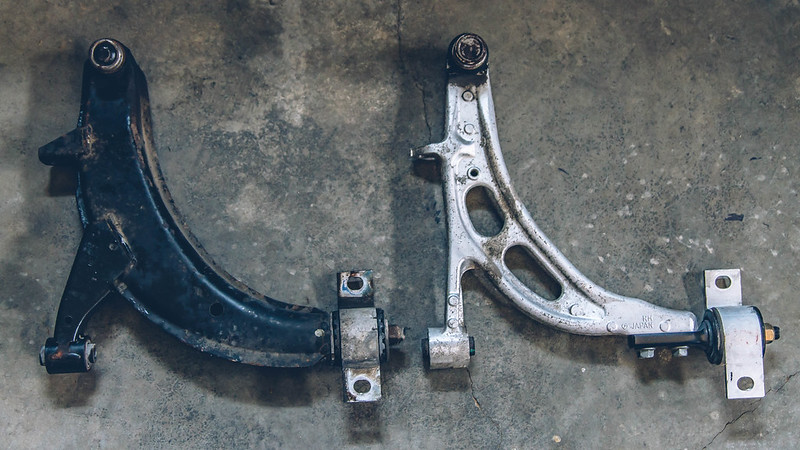 Installation is reverse of removal. I found installing the rear control arm bolts first is easier. They are kind of a PITA to line up though. Next is the front control arm bolt, followed by the ball joint. 
Repeat on the other side, then install your front sway bar and sit back and enjoy your new control arms because you probably won't see them again until your next oil change.
I haven't reinstalled my subframe brace due to the sad state of the bolts. I'm afraid some of them will snap when I torque them down. I'm sure that has an effect on the steering input, but I won't know for sure until I reinstall the brace.

Out on the road I am still amazed at how different the car handles now. All of the physical differences between the two control arms are pretty minor, but they led to great results on the road. My only complaint might be that my rack may be too slow for the increased steering effort.
I took it to the Skyway/Dragon over the weekend and front end grip is pretty amazing. I can feel the front end of the car dig in and claw it's way through hairpin turns without an ounce of understeer. I probably need an alignment though since I can't seem to get my steering wheel to center up. I'm sure my toe is off.

Next up are the STi rear lateral links!